Lakewood Ranch Landscape Installation
Exotic Gardens prides itself in plant quality and superb landscape installation service. Our professional crew experts will start each step of the landscape installation and will leave everything clean when done each day. In addition to our design and installation services, we also offer ongoing maintenance to ensure that your landscape continues to look its best year-round.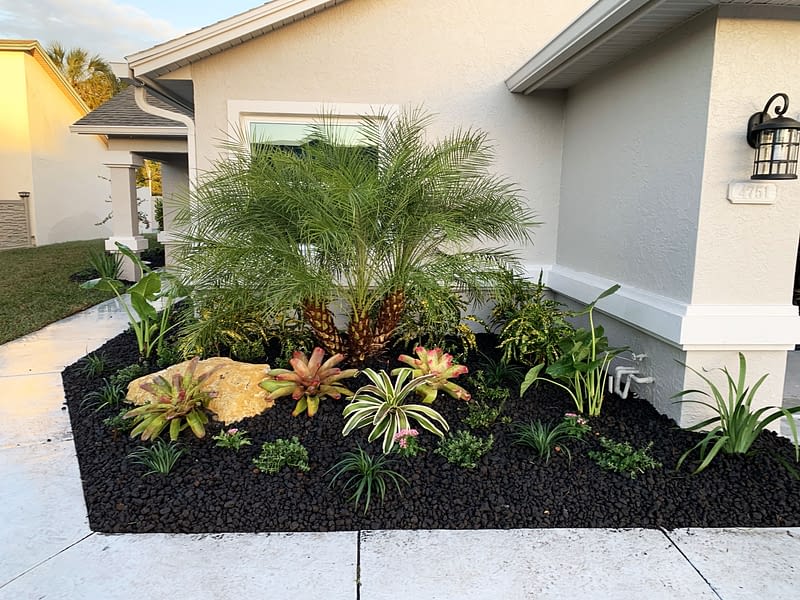 Our Landscaping Installation Process
1) Pre-Installation planning
We will contact your underground utility companies and will send you an email letting you know the ticket number with the installation tentative date.
We will send you an email with the name and contact info of the Project Manager, along with the names of the crew leader and other crew members, and the installation process.
2) Removal and Irrigation inspection
Testing of all zones and flagging all sprinklers and rotors.
Drip line disconnection on beds.
Relocation of sprinklers/rotors as needed.
Removal and disposal of undesired vegetation.
Removal and save plants to be relocated (if applicable).
Removal and disposal of old mulch or other ground cover materials.
We will install top and potting soil in all beds prior to the installation day to ensure the ground will have good soil quality, this will help the plants thrive in their new environment.
We will grade all beds to make sure the ground is properly level.
The soil yard quantity varies depending on homeowners elevation desires and bed sizes. We always check with the homeowner if there is a need for extra yards of soil to make beds higher.
4) Planting and Irrigation Install
Plant placement according to design.
Boulder placement and installation (if any selected on design).
Plant, palms and trees installation.
Installation of new drip line.
Installation of new or relocation of existing sprinklers/rotors.
Important note: To ensure good quality and efficiency all changes are final on "Planting and irrigation install" day, homeowner will not be able to do any changes on the design at this point.
5) Ground Cover installation
Installation of Mulch or rock material selected on the approved design.
At the end of the installation, the Project Manager will walk with the Crew Leader to ensure everything looks perfect, drip lines are buried and irrigation is working properly before we leave.
Project Manager will walk with you through the finished product and provide any necessary instructions on how to care for your new landscape features before final payment with 50% balance is made.
After Installation Special Offer
Sign up for our year maintenance and get one month free. Contact us to find out more about this offer!