Lakewood Ranch Outdoor Lighting
Stunning lighting brings a property to life after dusk. We only utilize high end superb quality fixtures "Sterling Lighting" brand, which offers energy-efficient LED fixtures that are perfect for illuminating outdoor spaces.We offer the lighting system with photocell, we also can offer digital timer or smart plug that allows you to control the lights from your cell phone through an app (extra charge, ask for more info).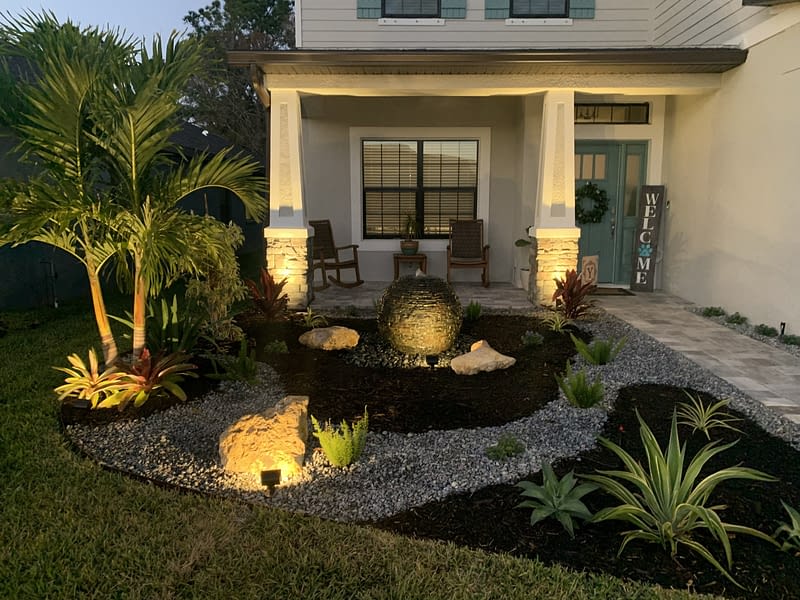 Why to incorporate landscape lighting?
Outdoor lighting can help prevent accidents by illuminating potential hazards, such as steps, walkways, and driveways. This can reduce the risk of slips, trips, and falls.
Outdoor lighting can deter intruders by making it more difficult to approach a property undetected. This can improve the safety and security of a property.
Landscape lighting can enhance the appearance of a property by highlighting its architectural features, plants, and other landscaping elements. This can increase the curb appeal and value of a property.
Outdoor lighting allows homeowners to enjoy their outdoor spaces at night, extending their usability and entertainment value.
LED landscape lighting is energy-efficient and can help reduce energy consumption and costs.
LED landscape lighting has a longer lifespan and requires less maintenance than traditional lighting. It also reduces carbon emissions and contributes to a more sustainable environment.
Outdoor Lighting Spec Sheets